The Education Advantage

Would you like to learn about a simple strategy that will make you, your library, and our profession indispensable for centuries to come? Based on Transforming Our Image: The Education Advantage, this presentation explains how a growing number of libraries are ushering in a new era with this effective approach.

What are these libraries doing differently? Public libraries are repositioning their libraries as a key component of the education enterprise, on equal footing with schools, colleges, and universities—and school, college, university, and special libraries as departments central to the success of their institutions.

As libraries from all U.S. regions implementing this approach, they are finding that their inherent value is no longer questioned. They no longer need to constantly explain why they are important. No one looks at them anymore with a puzzled look, asking, "Tell me again what you do?" Instead, the library systems enjoy heightened respect in their communities and optimal funding. This is because they are now assigned the same enduring worth assigned to other educational institutions.
Implementing this powerful approach is simple. It does not require changing anything we do—only what we say. The strategy:

Repositions public libraries as educational institutions (and school/academic/special libraries as a key department), and library staff as educators
Categorizes all that libraries do under three, easy-to-remember "pillars" (Self-Directed Education , Research Assistance & Instruction, and Instructive & Enlightening Experiences)
Replaces traditional terminology and jargon with strategic language that people outside of the field immediately understand
This game-changing vision has the power to dispel—permanently—all misperceptions. From the very words we use, everyone will recognize the true value of libraries. Just like schools, colleges, and universities, libraries are education—a timeless, economic imperative that merits immense respect and maximized funding.

Learning Outcomes. At the conclusion of this presentation, you will have gained the skills and confidence you need to describe your work and profession in terms that people understand and value. You will explore proven techniques to:

Redefine your library in a new, innovative way, using strategic vocabulary
Dispel misperceptions about libraries and increase respect for librarians.
Heighten your library's visibility and stature with community members and funding sources.
Introduce this approach to key constituents and develop strategies you can integrate immediately into your work.
A+ Partners in Education

Establishing a partnership between your library and schools may be one of the smartest investments of time your library can make. Why is this endeavor so beneficial to all parties involved?
Because joining forces
leverages funding and expertise in a visible way and benefits both all partners by:

Maximizing students' academic achievement
Raising the perceived value of public and school libraries
Establishing public and school library staff as educators, accurately conveying their expertise
Optimizing public funding for public and school libraries
Positioning library staff members as indispensable to the delivery of high-quality education for students, faculty and staff
Linking public libraries to the education enterprise
This presentation focuses on A+ Partners in Education.
About A+
: Launched in 2002,
A+ Partners in Education

(A+) is a
comprehensive, formalized partnership betwe
en and among
Howard County Library System, Howard C
ounty Public School System (HCPSS), and Howard Community College (HCC). The partnership improves student academic success.

Replicated in numerous jurisdictions across the country, A+ is successful due to key partnership components, which include:
Every school, and each college department, is assigned a public library branch and liaison (their "A+ Branch").

Each student receives a public library card through school registration.

Kindergarten field trips to the schools' A+ Branches are part of schools' curriculum.
Public library instructors teach A+ Curriculum classes at A+ Branches, and in the schools.

All parties collaborate on curriculum and signature events.
In Howard County, A+ signature events include Kindergarten Here We Come!, Movin' Up to Middle School, the annual Youth Empowerment Summit (part of Choose Civility Week), BumbleBee, HCLS Spelling Bee, Battle of the Books, DEAR (Dogs Educating & Assisting Readers) Graduation and Celebration, Rube Goldberg Challenge, and HiTech Expo.

(To experience the excitement via video, a short video of DEAR is included in this March 23, 2013 Baltimore Sun article, and highlights of the 2014 HCLS Spelling Bee are captured in a short video included in this March 8, 2014 Baltimore Sun article.)

A+ has become an established element of Howard County's culture. Since 2002, A+ has disseminated, 56,000 student and educator library cards, and facilitated more than one million interactions between HCLS Instructors and HCPSS and HCC students, parents, and faculty (Howard County's population is 300,000).
Available for any library to adopt, the A+ name and logo are licensed under a Creative Commons Attribution-NonCommercial-ShareAlike 3.0 Unported License.

Learning Outcomes. At the conclusion of this presentation, you will be able to:

Define the Five Factors of Success in a partnership
Understand why public library/school partnerships are so smart
Articulate the specific benefits of a public library/school partnership to public and school libraries, and to the schools
Describe the major components of A+ Partners in Education
Recognize how to repackage your existing program components into a comprehensive public library/school partnership
Understand the steps involved in implementing a successful public library/school partnership
Choose Civility

Choose Civility
invites everyone who lives and works in a community to choose respect, empathy, and consideration at every
opportunity when interacting with others, both professionally
and personally.
The initiative, which is gaining gro
und nationally and internationally, provides public libraries with an opportu
nity to (1) incorporate Choose Civility internally to enha
nce inter
nal and external customer service; (2) capitalize on the Choose Civility brand to market their collection, classes, and events on the topic of
civility; and (3) take the lead in the development and implemen
tation of a Choose Civility Chapter.
Now 125 Alliance Partners strong, "Choose Ci
vility, Howard County, MD" (the original Choose Civility initiative launched in 2007) features an a
n
nual Choose Civility week with a two-part symposium attended by 650 people. The October 2014 symposium centered on a sports theme: "The Ball's in Your Court: Can Civility and Sports Co-exist?"

The most visible marketing tool, 70,0000 Choose Civility car magnets have been distributed, with sightings in California, Maine, North Dakota, Florida—even in British Colum
bia.
As lead organization of "Choose Civility, Howard County, MD," Howard County Library System (HCLS) is honored to be the headquarters organization for all Choose Civility Chapters, which include Washington County, Maryland; Southern Maryland (Calvert, Charles, and St. Mary's counties), Freeborn County, Minnesota; Portland, Maine; and Miami, Florida.
HiTech

HiTech, HCLS' STEM education initiative for teens, teaches cutting-edge science, technology, engineering, an
d math (STEM) via project-based classes that include computer programming (Python and Javascript), 3D animatio
n,
nanotechnology, music/video production, e-books, game apps,
cybersecurity, green energy, and robotics.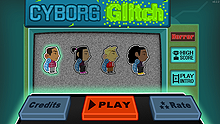 Projects
have included th
e design and build of weather balloons, robots, quadrotor flight controllers, hovercrafts, an e-book (titled "Chapters of Civility"

—

available from iTunes and Google Play), a mobile game, Escape from Detention!, that has
been downloaded 6,000 times from 30 countries across the globe. Available from iTunes and Google Play, Escape centers on a student who was mistakenly sent to detention because of a classmate's antics. The game is available for iPhones, iPads, and Android
sy
stems.

It was chosen as a top game by Best10Apps.com. HiTech students' seco
nd mobile game, Cyborg Glitch, was released in December 2014.

HCLS instructors teach students ages 11-18 the critical skill sets needed for 21st century careers. Attendance since the popular initiative's launch in June 2012 has reached 5,100. HiTech's curriculum comprises four modules: Interact, Improvise, Invent, and Instruct (the Academy), each incorporating progressively greater levels of instruction. The annual HiTech Expo showcases student projects. Upcoming classes include Genetics: Biology and Nanotechnology; Gamification; Advanced Robotics; Wearable Technologies; and Augmented Reality.

Leveraging the best technology, teaching tools, and experts to deliver a top-quality STEM education experience, HiTech incorporates an innovative methodology that blends instruction with experiential learning and peer to peer communications. A launching point for the STEM career pipeline, HiTech produces the next generation of brilliant scientists, mathematicians, and engineers needed in the community and nationwide.

The initiative capitalizes on Howard County's advantage as home to a number of major STEM-oriented employers and higher education institutions, with many providing leadership and guidance as members of the HiTech Board of Advisors, including Johns Hopkins Applied Physics Laboratory, Mindgrub Technologies, Northrop Grumman, University of Maryland's A. James Clark School of Engineering, Maryland State Department of Education, Howard County Public School System, Howard Community College, and University of Maryland Baltimore County's Joint Center for Earth Systems Technology.

The Urban Libraries Council (ULC), a membership association of leading public library systems in the U.S. and Canada, named Howard County Library System (HCLS) a "2013 Top Innovator" for HiTech. In announcing the award, ULC President and CEO Susan Benton said, "On behalf of the ULC community throughout North America, I congratulate Howard County Library System for being selected as a 2013 Top Innovator. HCLS staff are commended for setting the pace for growth, change and innovation in the field."

Videos:

HCLS HiTech - Visual Overview
HCLS HiTech -- 3D Robot Rendering
Well & Wise
A
health education
partnership led by HCLS and Howard County General Hospital: A Member of Johns Hopki
ns Medicine, Well & Wise enhances, advances and el
evates health education in Howard County, improving the health of the entire community. The initiative includes ongoing classes for all ages, and the Well & Wise blog.

Enchanted Garden
The Enchanted Garden , an innovative outdoor teaching venue at the HCLS Miller Branch, centers on scienc
e and health education (e.g., the garden features a pond and stream, 65 native species of plants, a Peter Rabbit Patch, and a Pizza Garden), as well as

environmental education—including a rain garden, bioswale, rain barrels, porous surfaces, and compost bins.



Open year-round for classes (e.g., "Sunflowers and Professor Fiboncacci"), clubs (e.g., the "Tween Sprouts"), and general enjoyment, the wondrous garden entices students of all ages, especially during the growing season.

Please click here to view:

Article: "The Enchanted Garden," by Lane Page, Howard Magazine, May 2014, p. 54.

Video: "Welcome to the HCLS Enchanted Garden!"



Return to Top